We're pleased to offer the following services at Wantage Veterinary Hospital:

Preventative Care/Sick Visits

We offer preventative healthcare exams and vaccinations. We also have the experience and expertise to quickly identify problems, determine a treatment plan and guide you with compassion at every step.
Emergency Care
Our well equipped team is capable of handling emergency visits during regular business hours. Please call (973) 875-7297 so that our staff can provide ample instructions.
Surgery
Our doctor performs multiple surgeries with the assistance of trained technicians. We closely monitor all patients while under anesthesia with our state of the art monitors. Parameters that are measured include EKG, blood pressure, heart rate, respiratory rate, and percent oxygenation. Orthopedic procedures are done by a board certified surgeon that operates at our facility as the need arises.
In-house Diagnostic Laboratory
We offer a full in house laboratory where we can run blood chemistries, complete blood counts, urine screening, tests for infectious diseases, cytology, and parasitic screens. We also use an outside laboratory for special chemistries and biopsies.
Dental Procedures
We have a dental scaler, high speed drill, and professional polishing equipment to treat pets with tartar build up and dental disease. Our pet dentals include cleaning, polishing, a fluoride treatment and full mouth dental x-rays. Dental cleanings are done under anesthesia with all the precautions and monitors used for any other surgery.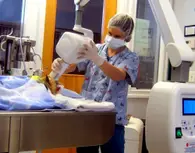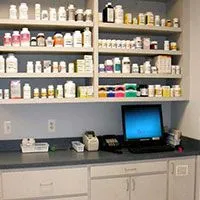 Store and Pharmacy
Our pharmacy includes hundreds of drugs that are prescribed to our patients when they are ill. The convenience of having everything in one location is appreciated by our clients when their pets are sick. We also carry flea, tick and heartworm preventative. We offer a wide variety of foods for the treatment of problems such as kidney, intestinal, and dental disease.
Digital Radiology & Ultrasounds
We have a digital radiograph machine with which we can obtain instant x-rays that appear on the computer screen. The exam rooms are equipped with computers where the doctor can show the images to the pet owner. The system works much like a digital camera because there is no film to develop and the images are stored in the computer.